What Does An ENT Do At Your First Appointment?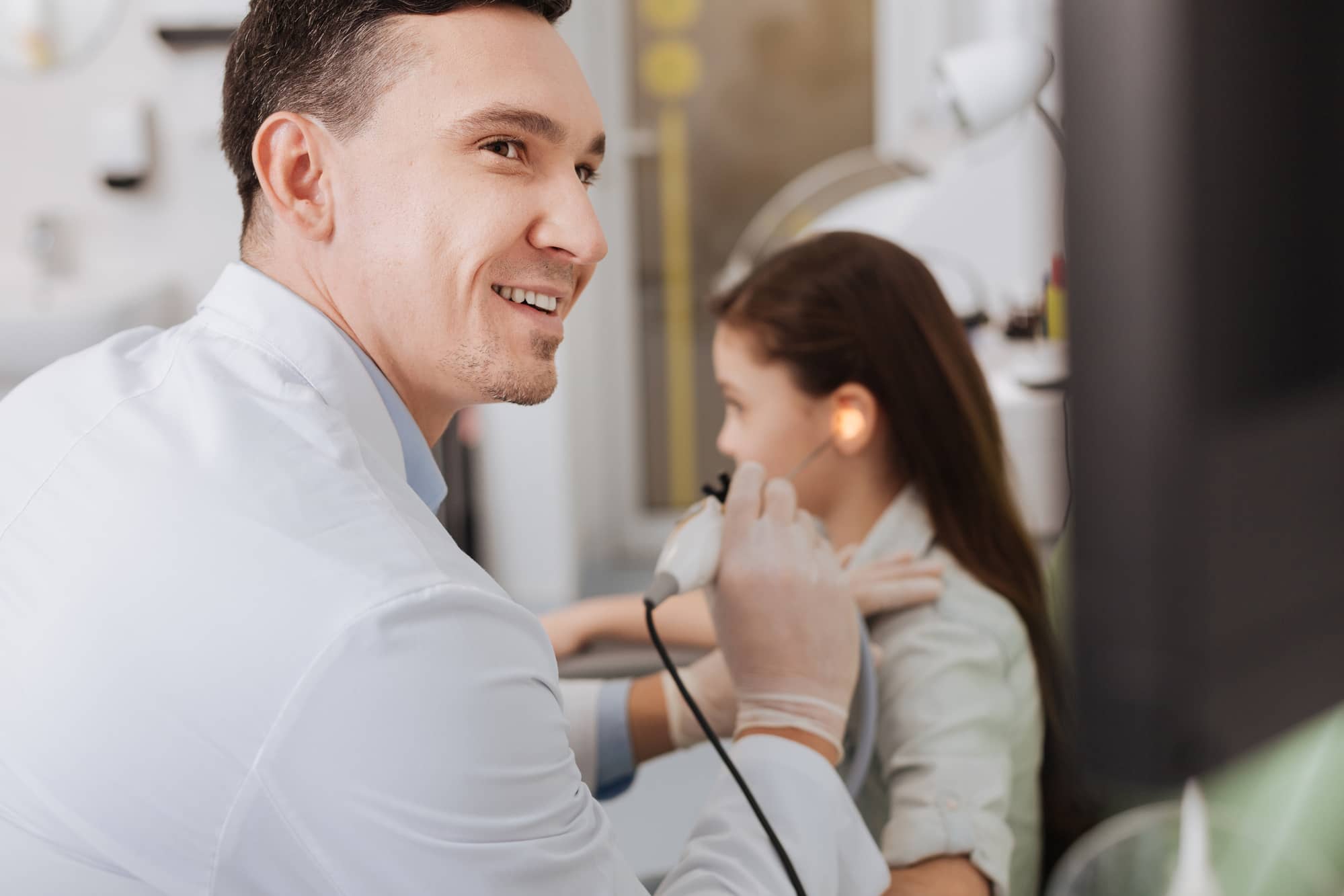 We all know an ENT deals with the ears, nose, and throat — but what do they actually do about the problems we're experiencing? When you're referred to a specialist, it can be a struggle to set the right expectations. What does an ENT do at your first appointment anyway? Are they going to diagnose your issue, prescribe medication, recommend surgery, or refer you to someone else?
For many, it eases their minds to know just how much an ENT can take care of. We not only see the patient, diagnose their problem, and treat it medically, we also perform surgery. The subtitle under "ENT" is "head and neck surgery" so if a patient needs surgery, we don't have to refer them to another doctor. We can take care of it ourselves.
If you're getting ready for your first appointment, be assured, as long as a problem is within our scope of practice, we can typically take care of patients from start to finish.
What Does an ENT Do at the First Appointment?
Your first appointment with an ENT will be tailored to your problem, but there are a few universal expectations you can have when you visit ENT Associates of Lubbock.
When you first arrive, our front desk assistants will obtain your demographic and insurance information. A medical assistant will then enter pertinent medical history (prescriptions, surgeries, previous imaging, etc.) into your chart. They will bring you back to an exam room and obtain patient vitals such as blood pressure, pulse and temperature.
Next, expect to see a physician. We don't have a PA or nurse practitioner, so you know you'll see your doctor. We start the first visit by talking through your history of present illness, so we understand the story of what's been happening in your body.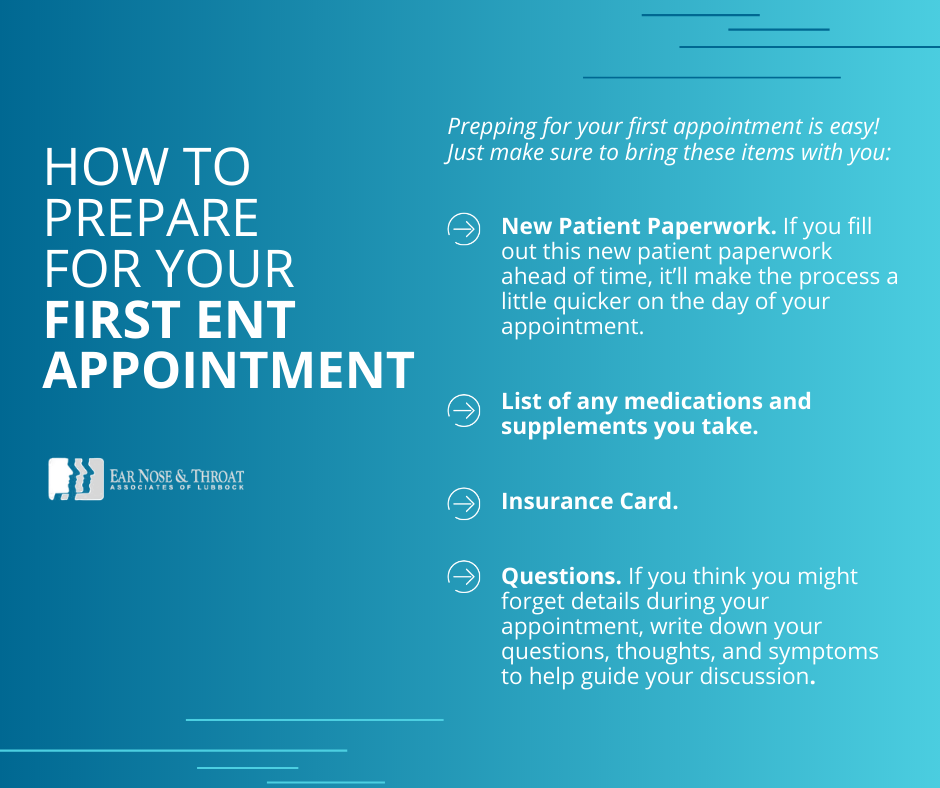 We then conduct a physical exam, looking very closely at the ears, nose, and throat using specialized tools. For issues with the ears, we examine them under a microscope, even cleaning them under the microscope if necessary. This is a safer and more effective way than they can be cleaned elsewhere. If there's a problem with the nose or throat, we use cameras and scopes to diagnose the problem quickly and move closer to fixing the issue. If you have sinus problems, we have an in-house CT scanner to quickly obtain imaging of the sinuses. We also have an Audiologist on staff so we can immediately conduct extensive ear testing, including assessing eardrum mobility and pressure if necessary.
These resources help us thoroughly examine whatever area needs further investigation based on the issue of concern.
In some cases, we can immediately address the issue — even during the first appointment. If the patient is having nosebleeds, we can do a nasal cautery. If the patient has excess fluid in the ears, we may recommend immediately placing tubes in the ears. With the combination of our in-house diagnostic equipment and ability to do in-office procedures, we often can quickly get patients the treatment they need immediately.
How Do I Prepare for an ENT Appointment?
Prepping for your first ENT appointment is easy — just make sure you have your paperwork and questions ready.
Bring these items with you:
New Patient Paperwork: If you fill out this new patient paperwork ahead of time, it'll make the process a little quicker on the day of your appointment. We send it ahead and it's available online.
List of any medications and supplements you take
Insurance Card
Questions: If you think you might forget details during your appointment, write down your questions, thoughts, and symptoms to help guide your discussion.
What Happens During the Visit?
The direction of your appointment depends on your complaints. For example, if the complaint is regarding the ear, we'll do ear tests including an audiogram and a tympanogram (eardrum mobility/pressure). If you are complaining of sinus pain, we might use a nasal scope to visual the area. We tailor each appointment to the specific issue the patient is experiencing.
What Are the Next Steps After the First Visit?
In the first visit, our goal is to get a diagnosis and initiate treatment. We try to treat issues medically first. If a patient has an infection, we prescribe an antibiotic. If they have allergies, we try to control those with topical sprays or oral medication.
Then, we follow up at a later appointment. For unresolved sinus issues, we may take a CT scan to get a better idea of what's happening under the surface. We offer this option in the office to make it as convenient as possible. If we see medication isn't sufficient, we'll explore surgical options depending on the issue.
FAQs
Can I eat before an ENT appointment?
Yes, eat anything you want. There's no bloodwork involved in your ENT visit.
Well, actually, maybe avoid garlic and onions… 🙂
Does an ENT evaluate vertigo?
Yes, if a patient thinks they have vertigo, we'll check the symptoms and see if we can figure out what's going on. Our first goal is to understand if it's in the ear or not. Often vertigo is dizziness that doesn't come from the ear, so it's not always an issue we can address. If it's not the ear, we can refer you to another specialist.
Can you see an ENT without a referral?
This depends on your insurance. Check your policy — and if you're in doubt, just give us a call and we'll give you your best options.
When is a nasal endoscopy necessary?
If we suspect a nasal pathology is causing symptoms and we can't see it with just our eyes, we can do an anterior rhinoscopy. If that's not complete enough or we're still suspicious of something, we can do a nasal endoscopy that will allow us to see further back into the nose and identify the issue.
How painful is a nasal endoscopy?
Our procedure isn't painful. We use numbing spray so patients only feel a little pressure but no pain.
If you're experiencing an issue occurring from a problem in the ear, nose, or throat, you may find comfort in knowing that an ENT is often a one-stop-shop for addressing these issues – whether you need medication, an allergy diagnosis, or surgery to solve the problem. In your first appointment, we'll take the first step to find out what solution may work best for you.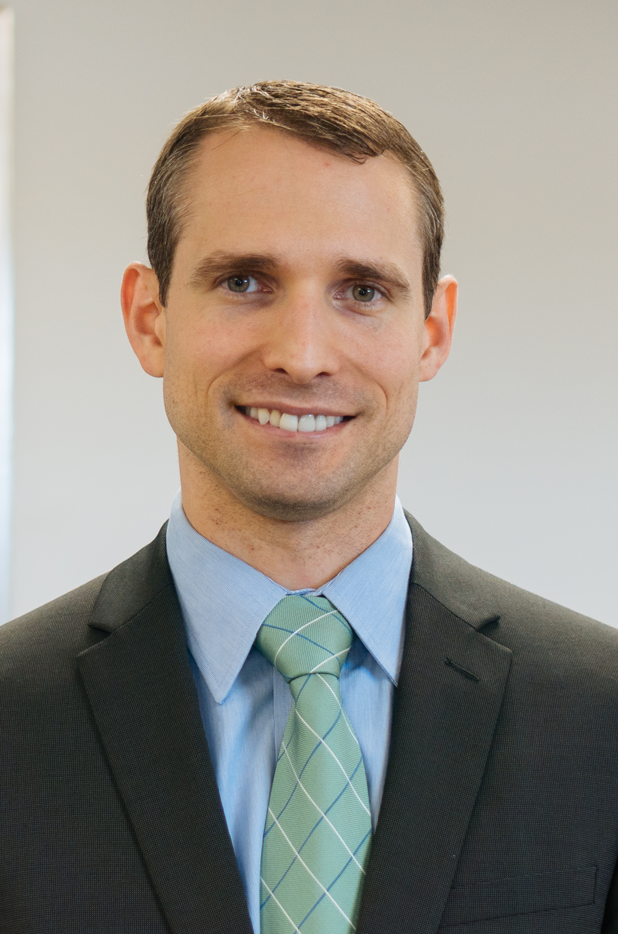 Dr. Cuthbertson is a physician at Ear Nose & Throat Associates of Lubbock. He joined the team at ENT Lubbock from Houston, where he was chief resident of the prestigious Bobby R. Alford Department of Otolaryngology at Baylor College of Medicine. He is board certified in Otolaryngology and Head & Neck Surgery and has quickly built a reputation, not only as an extremely skilled surgeon, but as an approachable and compassionate clinician adept in the newest standards and technologies. Learn more about Dr. Cuthbertson.
Disclaimer: The content on this website is written and/or reviewed by a qualified medical doctor and great care is taken to provide accurate general information. However, it is for informational purposes only and is not to be taken as a substitute for medical advice from your own physician who is familiar with the details of your medical history. Always consult your doctor regarding health concerns before deciding any course of medical action.