How to Find a Qualified Botox Doctor Near You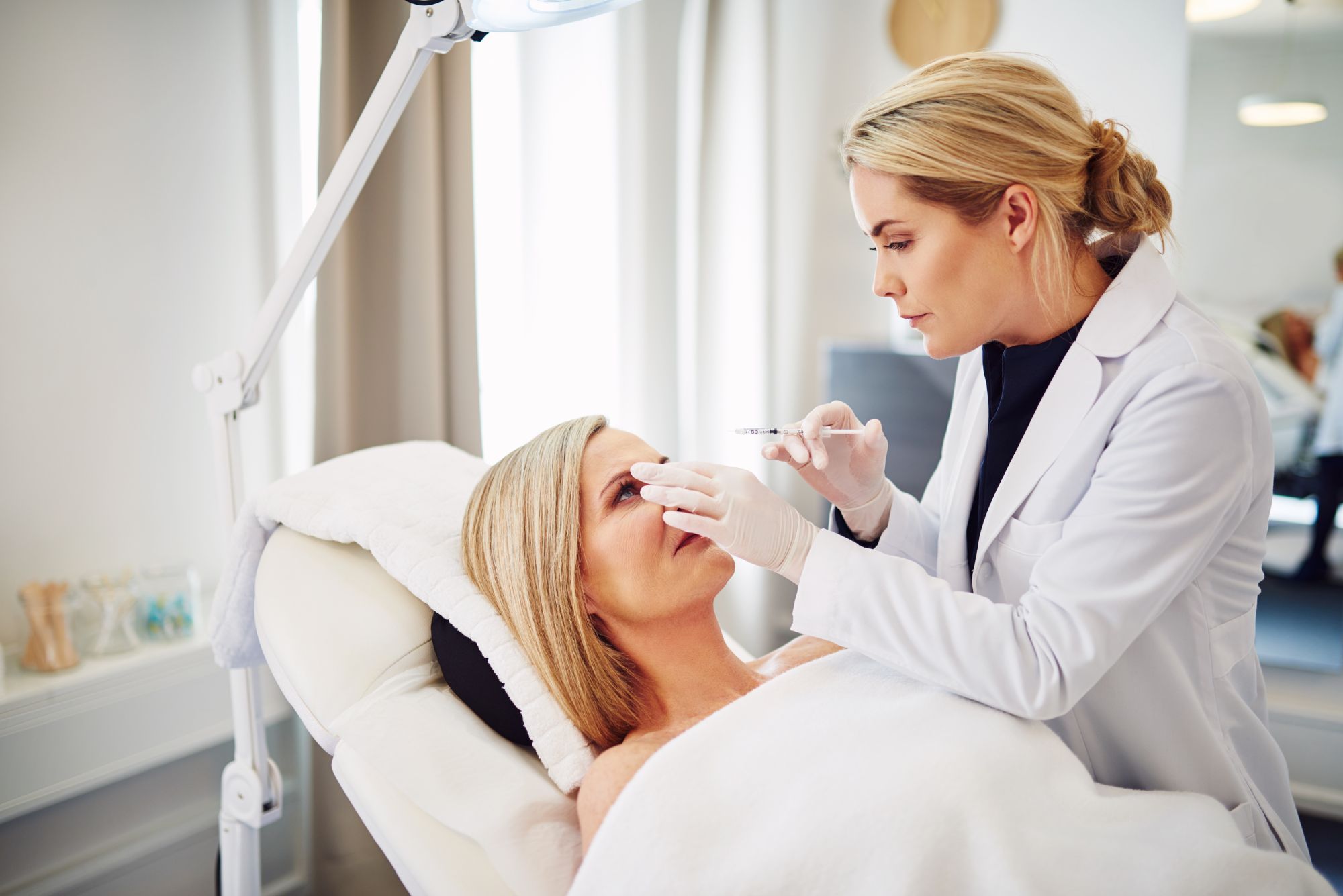 Botox has been around for long enough that most people are familiar with the basics — you notice some wrinkles, you get a few Botox injections, and the wrinkles disappear.
That's all correct, but you might still have questions that the basics don't cover, like:
How much does Botox help?
Who can administer Botox?
Where can I find Botox near me?
One of the most important questions about Botox treatments is how to find a qualified Botox doctor in your area. In this post, we'll talk about why choosing an experienced, qualified physician for Botox is important and what questions can help you find one.
Who Can Give Botox Injections?
In the United States, only medical professionals with specialized training are legally authorized to administer Botox injections. In every state, this includes physicians, but many states also allow nurses, physician's assistants, dentists, and similar professionals to perform injections.
An esthetician, however, can't legally deliver Botox injections unless that person also happens to be a medical professional.
Why It's Important to Find a Qualified Physician
While various medical professionals can provide Botox injections, certain types of physicians are particularly familiar with facial anatomy. Their specialized training and more extensive knowledge of the face's musculature mean they are best equipped to minimize risk and achieve the best results for patients.
Facial anatomy isn't exactly the same from person to person. Muscles can be larger or smaller, and slightly different in shape and/or location. There are a lot of muscles next to and overlapping each other in the face, as well. Without the necessary expertise, it's easy for a legal Botox provider to accidentally inject the wrong spot or the wrong amount, causing side effects that last months.
In the end, choosing a qualified, experienced physician who knows facial anatomy will get you better results and save time and money.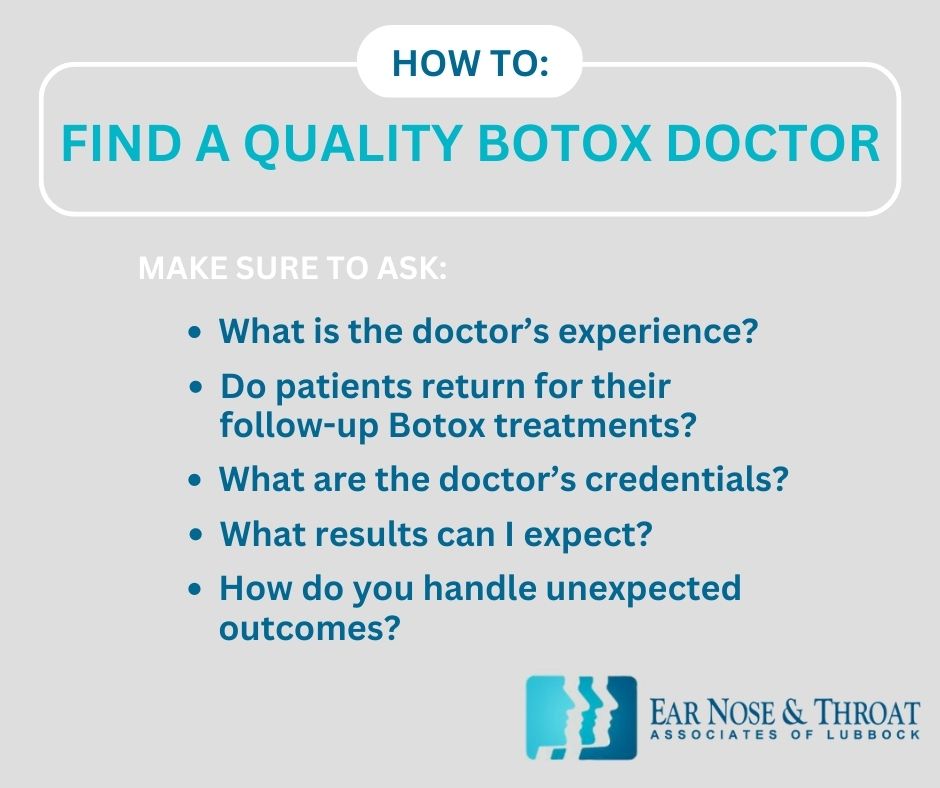 How to Find a Qualified Botox Doctor Near You
To find a Botox doctor near you, it's important to look into the qualifications and background of anyone you're considering. We've provided five questions to consider below.
1. What is the doctor's experience?
You can start by looking into the experience of the doctor you're considering. Is their specialty related to the face? How much practice do they have injecting Botox? Do they consistently produce great results for their patients?
2. Do patients return for their follow-up Botox treatments?
One way to find out how well a doctor near you administers Botox is to find out whether their patients come back for their ongoing Botox treatments. You can also check online reviews or before-and-after photos if any are available.
3. What are the doctor's credentials?
Again, it's important to be sure the medical professional who will actually be performing your Botox injections is a specialized physician. Once you locate an appropriate specialty practice, such as an ENT office, you can call to ask who actually administers the Botox injections.
Is it the physician, or a PA under supervision? Does the physician have any Botox training or experience?
Though it might be tempting to save money by visiting a lower-cost establishment, consider how much risk you're willing to take. A job poorly done is more expensive — not to mention more distressing — than paying a little more for a qualified professional.
4. What results can I expect?
A trained, experienced physician should be able to understand and diagnose your particular case during a face-to-face consultation. They should also be able to tell you whether or not Botox will actually help you, and how much.
A qualified physician isn't just throwing Botox at every issue they see. Instead, they take care to identify the specific problem and set reasonable expectations for the outcome.
5. How do you handle unexpected outcomes?
Though seeing a qualified specialist minimizes the risk of side effects, especially in Botox "danger zones," no procedure is ever 100% risk-free. With that in mind, ask the physician how they handle unexpected outcomes after Botox treatments.
Do they have a plan? Will they take steps to correct an issue, or will you need to see another doctor? Do they have enough background with Botox not to compound a problem by attempting the wrong solutions?
This is why having an experienced doctor is so important.
Find a Great Botox Doctor Near You
No one wants to endure months with the results of a faulty Botox treatment. To minimize that possibility, seek a qualified Botox doctor near you. Now that you know what questions to ask, you should be able to find an experienced professional who understands exactly what's needed to address your concerns.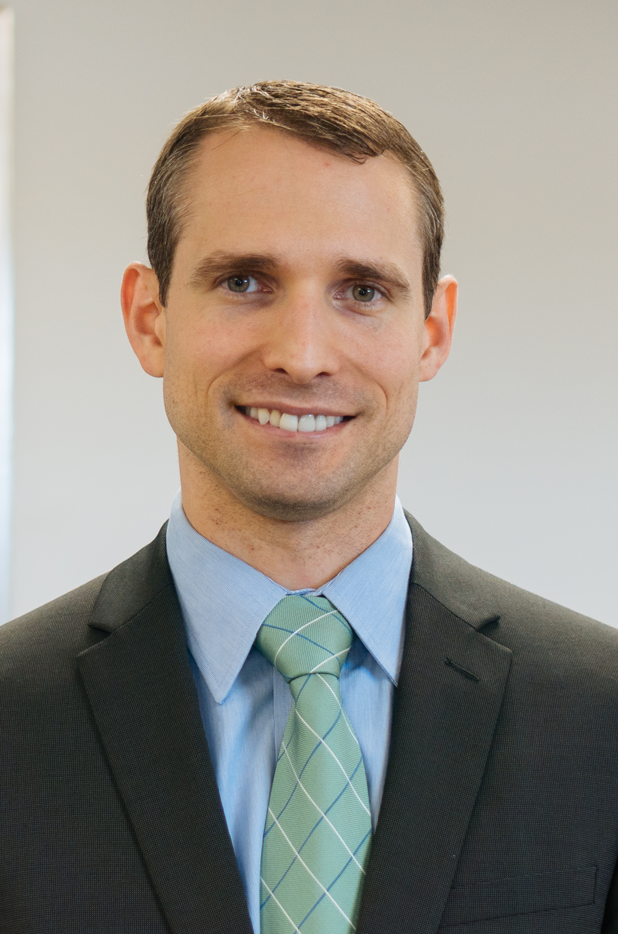 Dr. Cuthbertson is a physician at Ear Nose & Throat Associates of Lubbock. He joined the team at ENT Lubbock from Houston, where he was chief resident of the prestigious Bobby R. Alford Department of Otolaryngology at Baylor College of Medicine. He is board certified in Otolaryngology and Head & Neck Surgery and has quickly built a reputation, not only as an extremely skilled surgeon, but as an approachable and compassionate clinician adept in the newest standards and technologies. Learn more about Dr. Cuthbertson.
Disclaimer: The content on this website is written and/or reviewed by a qualified medical doctor and great care is taken to provide accurate general information. However, it is for informational purposes only and is not to be taken as a substitute for medical advice from your own physician who is familiar with the details of your medical history. Always consult your doctor regarding health concerns before deciding any course of medical action.