What a Pediatric Otolaryngologist Is (and When to See One)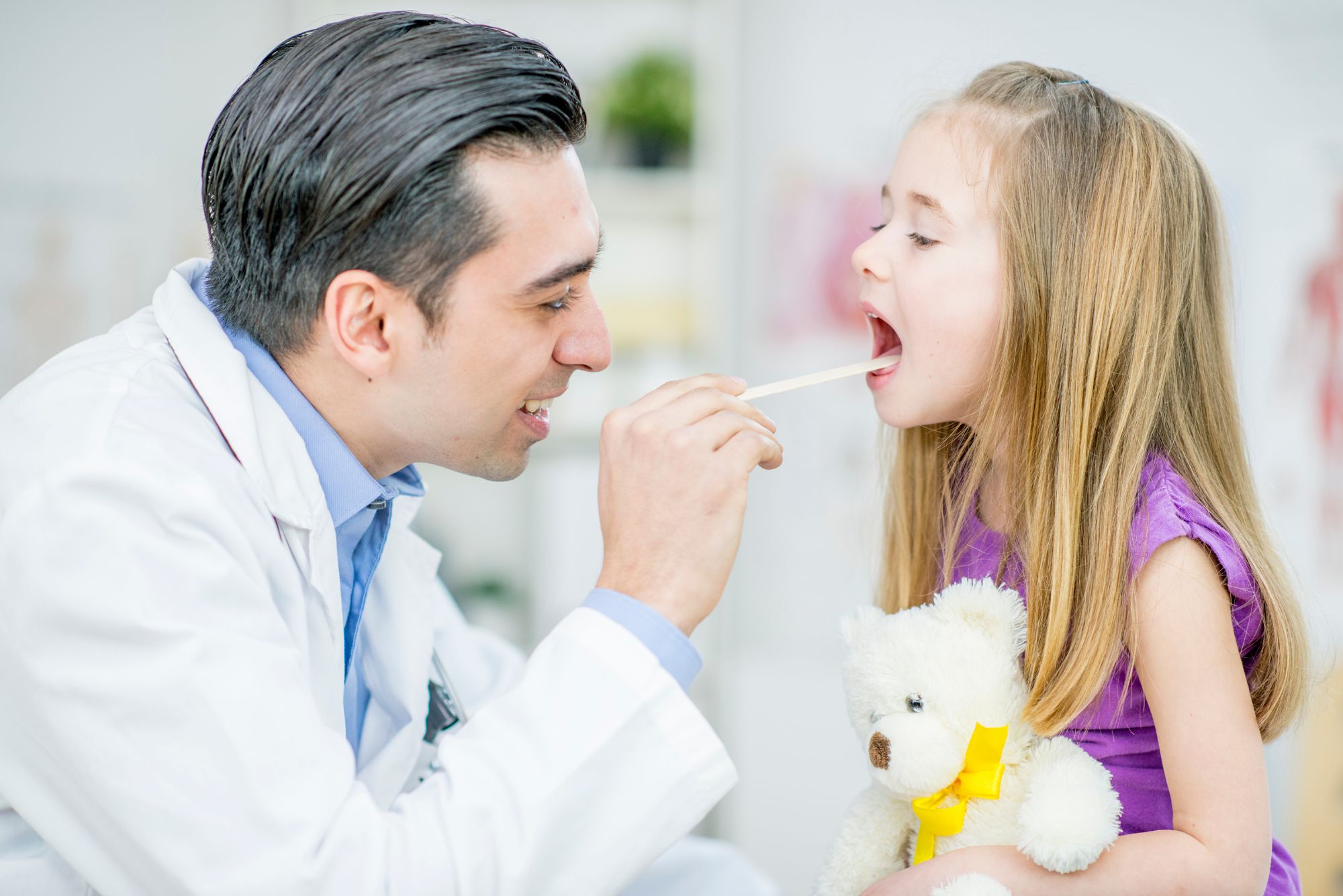 If you've heard of pediatric otolaryngology before, you may be wondering whether you should take your child to a pediatric ENT.
It's a good question. From the name, you'd think you should take children to pediatric otolaryngologists for all of their ear, nose, and throat needs. But it turns out that's not quite the case.
Because it's not immediately clear what the difference between a pediatric otolaryngologist and a general otolaryngologist is, this post will detail the responsibilities and expertise of each so you can better determine where to take your child.
What Is Pediatric Otolaryngology?
Pediatric otolaryngology is a subspecialty of general otolaryngology — the branch of medicine that deals with conditions of the ear, nose, and throat. Most ear, nose, and throat (ENT) doctors, including myself, are general otolaryngologists.
All otolaryngologists complete four years of medical school followed by five years of specialty training. During our residency, we see hundreds if not thousands of children and manage their medical issues.
From that point, some otolaryngologists decide to specialize further and pursue an extra year of training — called a fellowship — in pediatric otolaryngology. This usually takes place in an environment like a children's hospital, where the doctor gains training and experience with more complex cases.
What Does a Pediatric Otolaryngologist Do?
Because of their additional year of training, pediatric otolaryngologists typically handle more rare and complex conditions. They're especially adept in the treatment and management of different pediatric airway issues, such as a narrowed trachea, and perform procedures such as tracheostomy and bronchostomy.
Some have familiarity with rarer or more difficult cases in children, including congenital conditions like certain craniofacial issues or hearing loss. Some perform more specialized procedures, like pediatric cochlear implantation.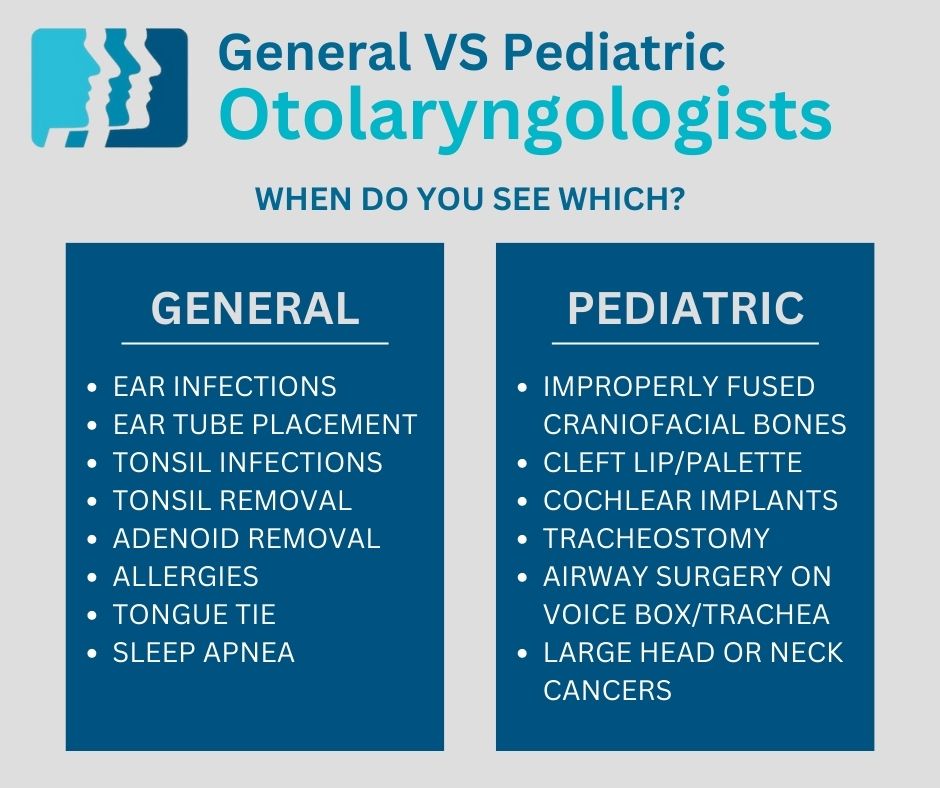 When Do You NOT Need a Pediatric Otolaryngologist?
For the common ear, nose, and throat issues children experience as they grow up, it's unnecessary to seek out a physician who specializes in pediatric otolaryngology. A general otolaryngologist has more than enough training and practice in these more common issues:
When Does a Pediatric Otolaryngologist Make Sense?
If we encounter a case better suited to pediatric otolaryngology, we refer that patient out to a qualified pediatric ENT. Such cases might include:
Improperly fused craniofacial bones
Cleft lip or palette
Significant congenital hearing loss that may require a cochlear implant
Excessive narrowing of the airway that might require a tracheostomy or an airway surgery on the voice box or trachea
Large head or neck cancers
Final Thoughts on Pediatric Otolaryngology
Pediatric otolaryngology is an important subspecialty within the ENT field. We need physicians who know the ins and outs of the rarer and more difficult pediatric conditions and have the training and practice to treat them most effectively.
However, if you're simply looking for an ENT who can effectively care for your child through the various ear, nose, and throat issues of childhood, a general ENT is more than qualified. We treat patients from all walks of life, from ages zero to 100, and we enjoy getting to know and care for the whole family in one place!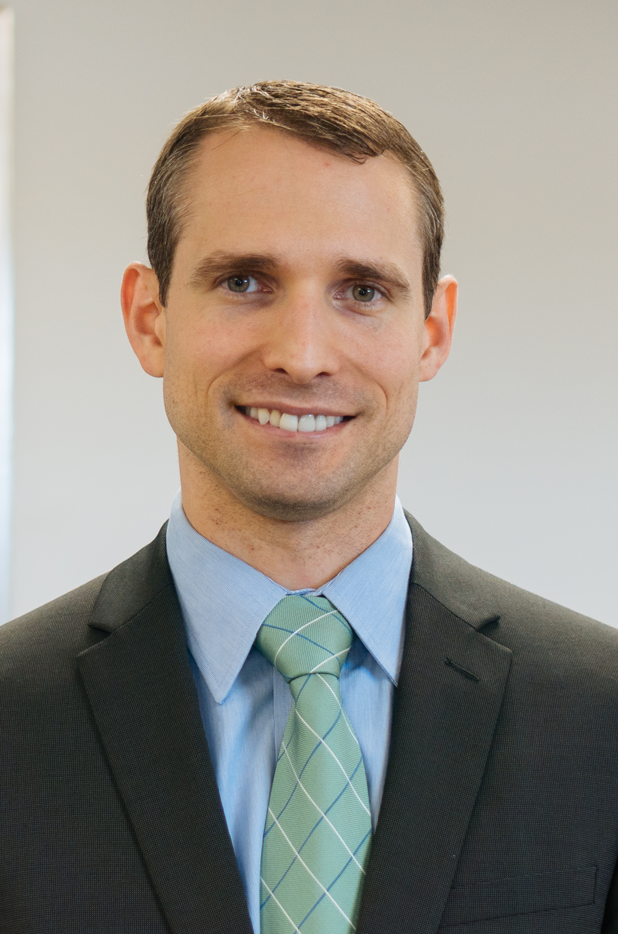 Dr. Cuthbertson is a physician at Ear Nose & Throat Associates of Lubbock. He joined the team at ENT Lubbock from Houston, where he was chief resident of the prestigious Bobby R. Alford Department of Otolaryngology at Baylor College of Medicine. He is board certified in Otolaryngology and Head & Neck Surgery and has quickly built a reputation, not only as an extremely skilled surgeon, but as an approachable and compassionate clinician adept in the newest standards and technologies. Learn more about Dr. Cuthbertson.
Disclaimer: The content on this website is written and/or reviewed by a qualified medical doctor and great care is taken to provide accurate general information. However, it is for informational purposes only and is not to be taken as a substitute for medical advice from your own physician who is familiar with the details of your medical history. Always consult your doctor regarding health concerns before deciding any course of medical action.